Even as excitement over the 640 million dollar lottery jackpot fades even faster than the money of its lucky winner surely will, the lessons it teaches us about psychology, risk, and reward remain important.
The obvious first lesson: humans are not rational. Since we all knew that already, let's move on.
The second, slightly less obvious lesson: this irrationality is a double edged sword. While anyone who acts truly without reason is a danger to themselves, and perhaps to others, the occasional, completely irrational action makes life much more interesting. Lotteries illustrate this quite well. On the surface, they are nothing but a way for the state to make money off of those who didn't pay attention in math class, an "idiot's tax." In fact, the money made from lotteries is great for states, as it appears to be the one form of revenue which isn't a matter of heated debate at the moment.
Of course, if money were to grow on trees, inflation would quickly render it worthless. This money which the government rakes in from the lottery has to come from someone, but who? Here, we see the scary, unfortunate side of human irrationality: many of those who regularly buy lottery tickets cannot afford to do so. In fact, those earning under $13,000 a year spend 9% of their income on lottery tickets. Now, sadly, I do not have access to full text article for this study, nor the inclination to pay $35 just to obtain it, so I cannot comment on the methodology of the study. In one somewhat obvious flaw in the way the numbers are reported, people with this income are going to spend a disproportionate amount of their money on
anything
, even if they were to spend the same amount per week as the general population. While this is indubitably a sad statistic, the factors behind it are far from surprising. When people are desperate, they'll buy hope in any form, even a worthless piece of paper.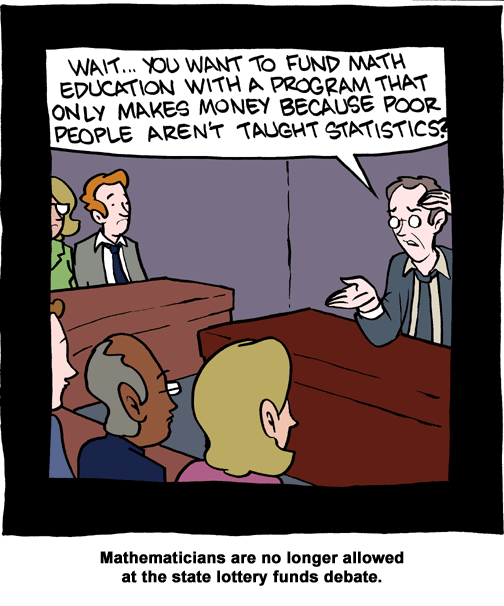 Despite this, I don't advocate abolishing the lottery. While it may have its downsides, I believe, like many irrational things, it does more good than harm. Anyway, if adults have a right to do whatever they want with their money, why not let them donate it to the government? (This, incidentally, is why I believe that gambling should be legal. If people can waste money on scams like bottled water, which is worthless and boring, why not let them waste money on things which are worthless and exciting?) While spending over a thousand dollars per year on lottery tickets may be incredibly stupid, a ticket once a year, or even once a month, is pretty much harmless. In fact, the fun of imagining what you'll do with the money may justify the tiny cost of a ticket. Yes, you could dream without the ticket as well, but, somehow, the one-in-a-million odds make it seem much more realistic than the zero-in-a-million odds you'd have without the it. In addition to providing funds for education, the lottery even has some educational value in and of itself! It provides a familiar jumping off point for math teachers to introduce their students to probability, and, since the chance of winning anything is so low, a rather effective way for parents to teach their children about risk. (Slot machines, on the other hand, are not particularly effective in this regard. My parents had an friend who, while driving through Las Vegas, put some coins in one in order to teach his daughters not to gamble. The gods must have a sense of humor, since he won several times in a row.)
The bottom line: while excessive gambling, of any form, is destructive, a lottery ticket once in a blue moon may be worth it if you look beyond the money. Without the occasional irrational decision, life becomes rather dull.
(Okay, I think I've just convinced myself to apply to Caltech, since I'm slightly more likely to get in there than to win the lottery. The nerdy high school student's form of gambling is fun :D )